The wine of Sauternes, praised even in the XIIth century by Richard the Lion Heart, was regarded, by the gourmets of bygone eras, as the finest of the great white wines.
In 1855, the quality of the wines of Sauternes was sanctioned by the Imperial Classification which, at that time united the Crus of Sauternes and of Médoc.
The Sauternais lies on the left bank of the Garonne, 40km up-river from Bordeaux. It is endowed with a soil which is made up of strata of silica, chalk and gravel. These strata, deposited with the passing of time, give to the wine its finesse, strength and lusciousness. This region, dotted with castles and ancient stately-homes is traversed by the Ciron. The Ciron is tributary of the Garonne and gives the region a micro-climate with morning mists in autumn, which lift quickly to let the warm sun through to perfect the maturation of the harvest.
The appellation Sauternes may be used in the following 5 communes: Bommes, Fargues, Preignac, Sauternes and Barsac, the last one may also use its own appellation.
The great secret and unique quality of Sauternes lies first foremost in the art of picking the grapes. Ripeness alone is not enough: the grapes must reach the concentration, due to Botrytis Cinerea (noble rot), which give to the wine its high sugar content; only then will the  long and delicated harvest operation begin, and it will take two months to finish. The pickers go through the vineyard several times, taking each time only those grapes which have been completely very limited in size, but the grower in Sauternes has always been far more concentrated with quality than with quantity.
Once the grapes have been pressed, the juice ferments in oak casks. Having reached a certain alcoholic strength, the fermentation stops of its own accord, leaving a little unfermented sugar in the wine. During the two years of maturation, the wine is racked several times, and then finally bottled at the property.
DOMAINE DE MONTEILS is a small family property since 1861.
The estate currently belongs to Marie-Christine Cousin and her parents. Since 1999 her husband and associate, Jean-Paul Fourcaud is the vineyard's manager.
The vineyard extends over 13 hectares on gravely soil and subsoil.
The grapes are picked in the traditional way, entirely by hand, in successive passes (3 to 6) through the vines from mid September until mid November.
Winemaking and ageing are in the best local tradition: fermentation and ageing for 12 months in oak barrels for "cuvee Selection", a proportion of which are renewed each year, that ensuring constant quality for wines that age beautifully.
Our "Cuvee Selection" got 3 Gold Medals: 2 at the Agricultural General Show in Paris 2005 and 2007, and one at the International Wine Challenge in London 2008.
Our last wine, a dry white wine is a very small  production. The harvest is made entirely by hand to pick Sémillon grapes on Sauternes vines.
This wine drunk young is fresh and fruity, whilst if aged for any length of time (the best vintage can keep for hundred years) it will develop the lusciousness, the breeding and the roundness of which only Sauternes can boast.
If your have bought some bottles of fine Sauternes for your cellar, please treat them with great care: lay the bottles on their sides in a cool place and keep the temperature constant.
Sauternes should be served chilled but not ice. Contrary to widespread tradition, this wine is not solely a dessert wine. If served to guests before a meal, as an aperitif, it will stimulate their palate; but by all means serve it right through a lunche or a dinner, except with very spicy or very sweet dishes.
Nowadays, the great gastronomes of France are recommending people to drink Sauternes with Foie Gras and with Roquefort, 2 delicacies ideal for sampling with these wines.
APERITF: snacks and canapés, sweet rolls with foie gras, walnuts cheese, dried fruits, chicory leaves with Roquefort or blue Auvergne cheese.
FIRST COURSES: puff pastry with Roquefort or foie gras, fresh salmon tartare, foie gras, asparagus (mousseline sauce), melon with Sauternes, scallops in Sauternes, Chinese or Japanese cuisine (spring rolls, prawn fritters, Paking duck).
FISH: Sauternes goes well with sauces (white, white butter, mousseline), turbot, sea bass, pike, salmon steak with buttered leeks, cod with ratatouille, monk fish or lamprey, sole and morel mushrooms with Sauternes based with sauce.
WHITE MEATS: Tenderloin, veal or pork with pineapple or peaches, grilled citronella ceal kidneys, veal chops with asparagus tips, pan-fried or roasted veal liver with grape sauce, leg of venison marinated in Sauternes.
FREE-RANGE POULTRY: grilled or roasted chiken, pheasant, guinea fowl, quails with grapes in Sauternes juices, duck with peaches, rabbit with mushrooms in Sauternes, capon, goose, turkey, squab.
CHEESE: Roquefort, veined or walnut cheese, ewe cheese, warm goat's cheese on a bed of salad with onion preserve, accompanied with Sauternes.
DESSERTS: fruits tart (apple, lemon, red fruits), tarte tatin, peach charlotte, dark chocolate cake, fruit salad, strawberries.
In a punch bowl put diced fruit, according to season (apricots, peaches, apples, etc…) and thinly-sliced oranges. Pour in some Sauternes, allowing 2 glasses per person, and add one or two glasses of Cognac. Allow the mixture to macerate about one hour in the refrigerator, then serve with ice-cubes and soda-water.
A glass of Sauternes with its delicate aroma and its richness of taste will gladden your heart: truly the wine to help you enjoy each day to the full.
The independent wine maker logo symbolizes our profession, and provides a reference for you as a wine lover.
Only independent wine makers who sign and respect the charter can feature this logo.
Embracing the rich variety of french wines and our individual personalities as independent wine makers, this logo embodies our dedication to expressing our unique asset: wisdom about wine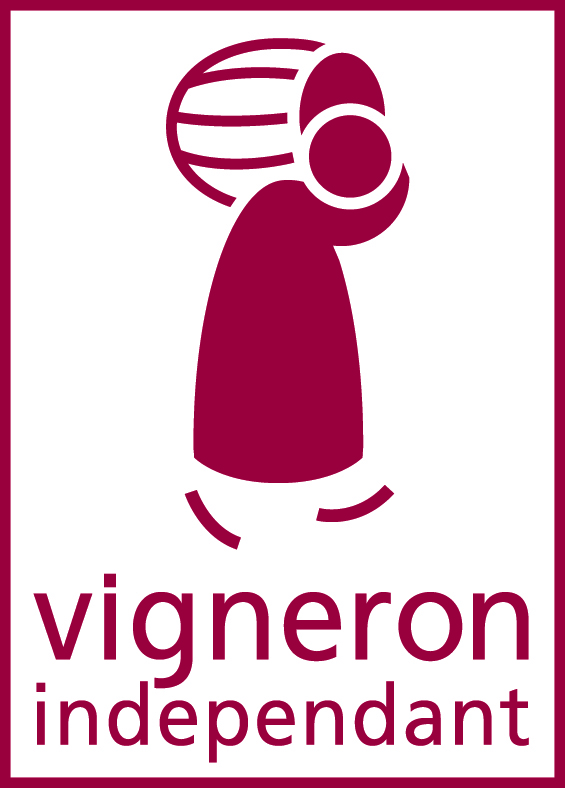 CHARTER of the independent wine maker
He respects his terroir
He cultivates his vineyard
He harvests grapes
He vinifies his own wine
He produces his brandy
He bottles his wine in his private cellar
He sells his wine
He perpetuates tradition
He is happy to welcome you, to give advice about wine tasting and introduce you his production.